51 Labs and AUK Put On a Panel on Entrepreneurship in Duhok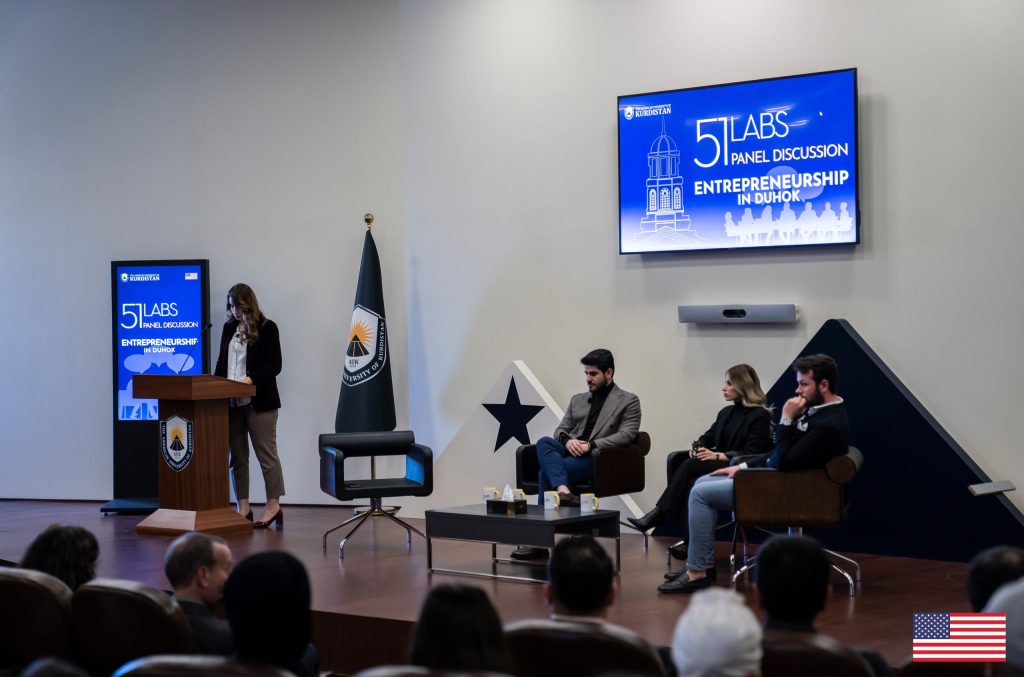 On January 10, in the auditorium of the American University of Kurdistan (AUK), the 51 Labs organization held a panel discussion. 51 Labs helps entrepreneurs launch startups, and the panel's topic was "Entrepreneurship in Duhok." Awaz Saeed Shawkat of 51 Labs opened the event and moderated the discussion. The partnership between AUK and 51 Labs for "incubating" entrepreneurship has been active since last summer, and it has been made possible through the United States Department of State Grant titled "Support to American-Style Higher Education in Iraq."
The three panelists were all Kurdish, but they had very distinct experiences in starting their respective enterprises. Bayar Aziz, founder of Wedo Academy, comes from Erbil, is educated in the sciences, and has professional experience in banking and fintech. Gilan Sharafani was raised in Norway and is now successful in the beauty and fashion industries in Kurdistan. Hiwa Ahmed, owner of Bond Cafe, is a Dohuk native trained in architecture.
The first question from the moderator related directly to the "Entrepreneurship in Duhok" theme: "How is entrepreneurship important for Duhok?" In answering, Dr. Aziz cited many telling statistics from memory, arguing for the potential of entrepreneurship to diversify Iraq's economy from its current 60% dependence on oil and reduce Duhok's unemployment rate from the present 34%. Ms. Sharafani, in her answer, stressed the power of social media, in Duhok and elsewhere, in facilitating entrepreneurship, even in the absence of funding. Mr. Ahmed noted the high level of construction underway in Duhok and connected it to two entrepreneurial guidelines: finding a need in the market and producing goods and services that make life easier for others.
When asked about how Duhok and the wider Kurdistan region could increase entrepreneurship, Dr. Aziz called for reducing "red tape." Ms. Sharafani advocated the cultivation of curiosity and risk-taking among children, so that they have the right knowledge and attitude for starting a business in early adulthood. Since education is so important to entrepreneurship and came up repeatedly in the discussion, the moderator asked AUK President Randall Rhodes for comment. As the Chair of the National Task Force on K-19 Education in Kurdistan, he spoke on the need for a greater focus on soft skills among students, the infusion of creativity in the classroom that in turn will foster innovation, and the training of teachers for such paradigm shifts. Throughout all levels of education, project-based learning and experiential field work should be utilized, he said, so as to prepare graduates for success in the workforce.
The event closed with a number of questions from the audience. The enthusiasm for entrepreneurship in the AUK Auditorium was palpable; through the collaborative incubation of 51 Labs and AUK, it is probable that this enthusiasm will soon manifest itself in an innovative business ecosystem in Duhok.