Team "Kurdistan" wins with aplomb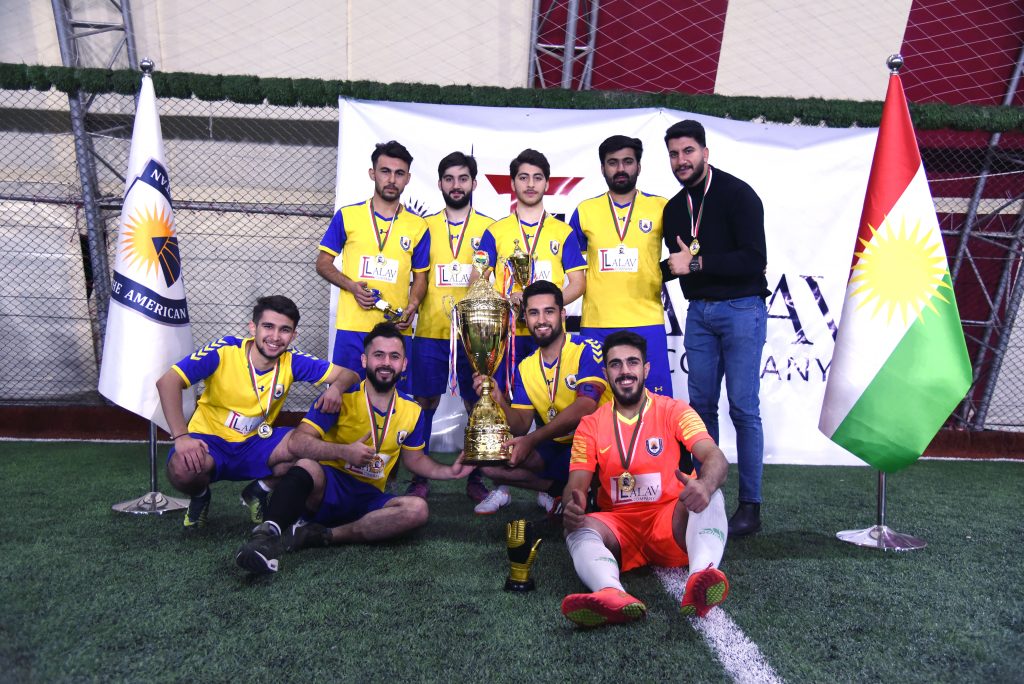 Duhok, Kurdistan Region of Iraq – November 6th, 2019 – The American University of Kurdistan concluded its 6thSoccer Tournament with the best of five teams battling for the championship.
AUK's Sixth Soccer Championship Tournament, held by the Student Government and powered by Lalav company, ended yesterday in a competitive 2-1 win for Team Kurdistan over their finals rival Team Peshmerga.
"We came here to perform and did so, in sports luck also plays a role and sometimes you just face a better opponent and you lose." Said Mohammed Farhad, one of Team Peshmerga's players.
"But important is, that through this tournament we, as students, besides educational competition also experience to compete in a physical activity." Mohammed, who scored four goals in the tournament, added.
Although both finalists started this year's tournament with high promise and were named as favorites to win the trophy in beforehand, the three other teams, "All-Stars", "Rojava" and "Vikings" also contributed to the most competitive soccer tournament the AUK has seen, proving AUK's Student Government's decision to decrease the number of participating teams this year to be right.
"Due to the evenly matched teams the competitiveness in this tournament was very high. Also the support and participation of the audience was great, which I want to thank for and invite everybody to next year's Spring Tournament." Stated Daner Ferhadi, AUK faculty member and one of the organizers of the tournament.
List of Awards winner:
Champion: Team Kurdistan
Top Scorer: Ahmed Massoud (Team All-Stars)
Best Goal: Ahmed Massoud (Team All-Stars)
Sportsmanship Award: Areen Masrour (Team Kurdistan)
Best Player: Ali Murad (Team Kurdistan)
Best Defender: Ribar Fatah (All-Stars)
Best Goalkeeper: Shandar Hishyar (Team Kurdistan)
Best Fan: Dr. John Manzies, AUK President
Certificate of Appreciation: Lalav Company