Student Spotlights: Rama Baito develops an Emergency App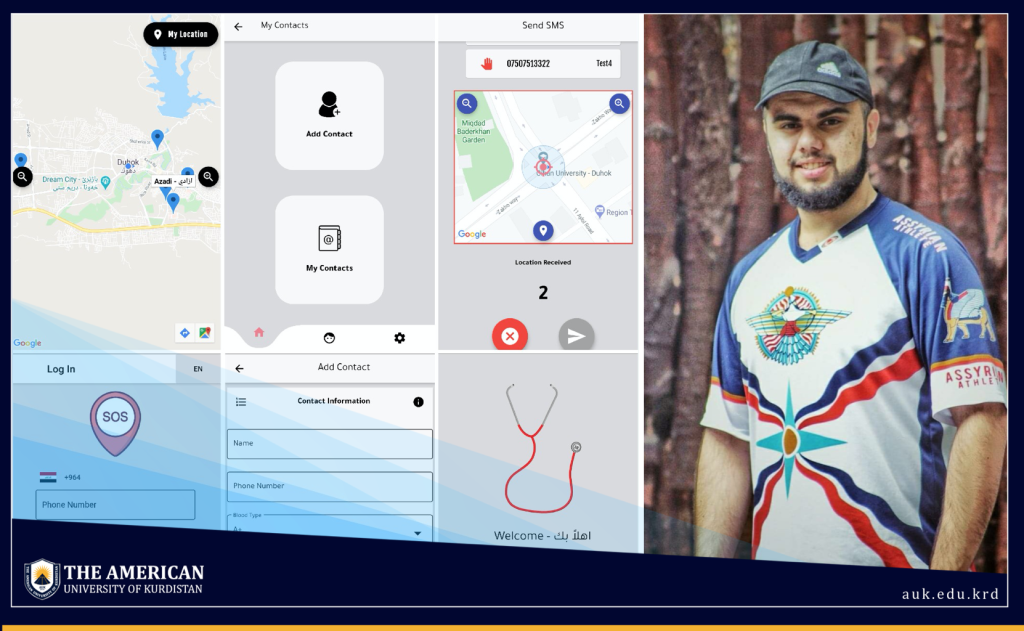 Duhok, Kurdistan Region – August 14th, 2020 – No more confusion about address location over the phone. You can get an ambulance to your house with a single click with the (S.O.S. Emergency) mobile application developed by Rama Baito, AUK's senior student.
The app enables people to access medical care in the city of Duhok through their phones and many other features such as:
–      Sending Current Location Online and Offline (SMS).
–      Contacts List.
–      Videos Library.
–      Panic Mode.
–      Multi-user types.
–      Multi-language.
–      Different Themes and many other features.
The student's idea of developing the app started in 2019 during Dr. Dara Sherwani's Human-Computer Interaction (HCI) course to solve the emergency issues in Kurdistan and Iraq. Rama states that "getting an ambulance to your exact location is very difficult because the patients or their family members spend a lot of time describing their address or location, saving time will save our souls, especially when it comes to precision and high accuracy."
The wireframes of the app were designed in 2019 during Human-Computer Interaction (HCI) course and started coding and implementation during the COVID19 lockdown between February and March 2020.
"AUK is the first university in Iraq to start teaching Flutter Tool-Kit and Dart programming language offered by Google, and it is the language I used for building my app. Apart from HCI, other courses such as Object-Oriented Programming and Mobile Application Development helped me understand programming and coding." Said Rama Baito, AUK senior student.
Currently, the SOS Emergency app is only developed for Android users, and is available on Google Play Store for internal testing and not to the public yet. Rama's future plans will be to shift the app to be user friendly for iOS users and then offer it to public and private hospitals in Kurdistan and Iraq to be used by them in their daily work.
The Department of Information Science at AUK includes a wide range of courses related to design, programming, networking, data analytics, and system management.