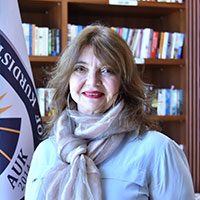 Hala Al Madfai, MA
Acting Chair of Interior Design
Hala Al Madfai is the chair of AUK's interior design department, College of Arts and Sciences. She obtained her BFA from the University of Baghdad; The Academy of Fine Arts in 1985. Her MA in Spatial Design from Auckland University of technology in New Zealand in 2001.
Al-Madfai has three major interests in research in the fields of Finish materials for interior design, Digital in interior architecture, and Interior design products and the Digital World.
As an internationally recognized designer, Hala Al Madfai commenced projects in Spain,
France, Germany, Auckland, Dubai and London. In 2007 she established her interior
design office, H&H Design Mark in Dubai, UAE, with branches in London and Auckland.
Her most iconic Projects are Faruq Omar Bin Al Khattab mosque in Dubai, UAE and
Ajmann's state mosque, Amina Bint Al Ghurair.