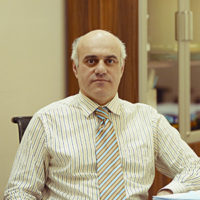 Alan Mustafa, PhD
Faculty
Alan Mustafa is Faculty of the Department of Computer Science. He was previously head of the departments of information technology and curriculum development at two other universities.
He has supervised numerous theses in the fields of information systems, networking and organisational information technology control, and auditing disciplines.
His research interests include e-learning systems, database-driven websites, and intranet and office technology. He holds a master's degree in advanced information technology and an undergraduate degree theoretical physics.