Final Whistle: Zakho Vs Peshmerge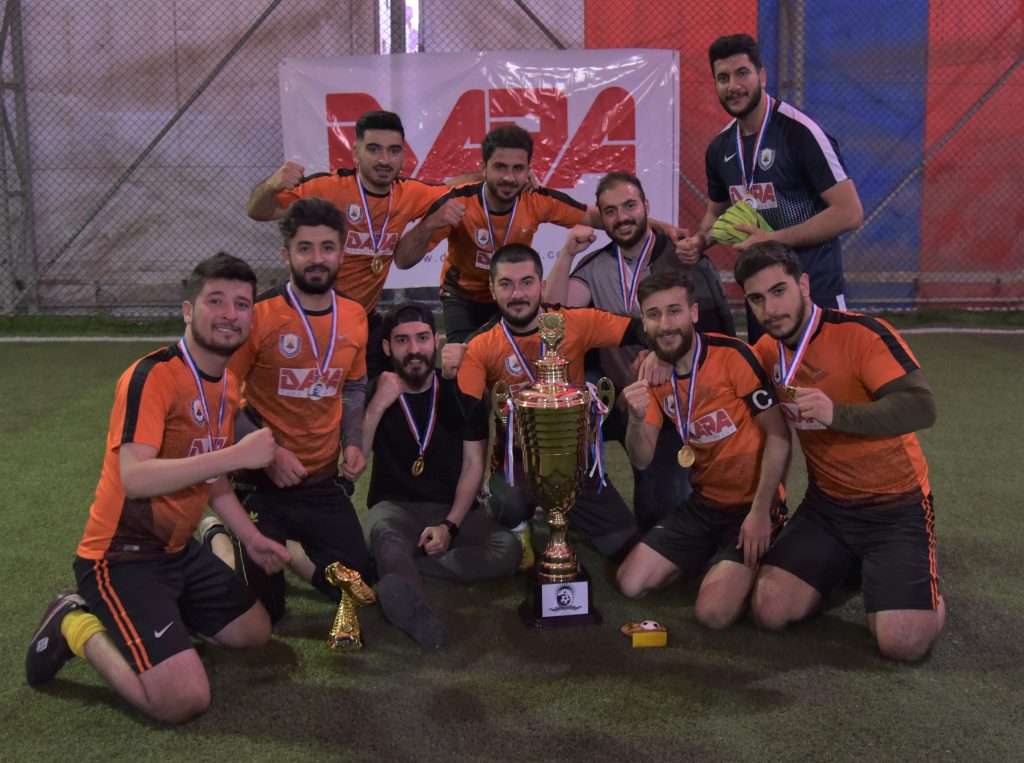 Duhok, Kurdistan Region of Iraq – April 24th, 2019 – The American University of Kurdistan concluded its spring 2019 soccer tournament with Peshmerga and Zakho fighting for the title.
The final whistle of the 2019 AUK soccer tournament for spring season resulted Peshmerga's win over Zakho in penalty kicks after a tough match ended with no goals.
''This year's spring tournament was super fun and very competitive from the start.  The passion from the players and support from the fans made it a huge success.'' Said Ari Ibrahim, Director of the Office of Admissions and Registrations, and AUK's staff team (MGMT) captain.
In an official statement, Student Government body stated: ''our goal with opening this tournament was to create an off-classroom environment for students and to encourage active engagement in our athletic programs. We thank everyone who attended the game today, and special thanks to Dara Company for sponsoring this tournament.''
Peshmerga and Zakho were two teams with high promise at the start of the tournament.  They played the very first match of the tournament with Zakho escaping gritty 1-0 win in a very competitive and exciting match.  The rematch in the championship match lived up to the hype and showed all the heart, toughness, and skill of both teams. Peshmerga earned the title after two consecutive saves out of three from their Goalie, Sizar.
In the closing ceremony President of The American University of Kurdistan handed the championship trophy to the Peshmerge and awards of recognition were given to best performers in the tournament as follows:
Top Scorer:  Mohammed Saleem Salih M. Saleem (Peshmerge) – 8 goals
Best Defender:  Ribar Frhad Fatah (Zakho)
Best Goalie:  Sangar Abdullah Yousif (MGMT)
Best Sportsman:  Gabo Hadi Shekho (Peshmerge)
Best Player:  Mahmood Faisal Ramadhan (Zakho)