The graduation of Taqa's students from Chamanke, Atrosh and Bellan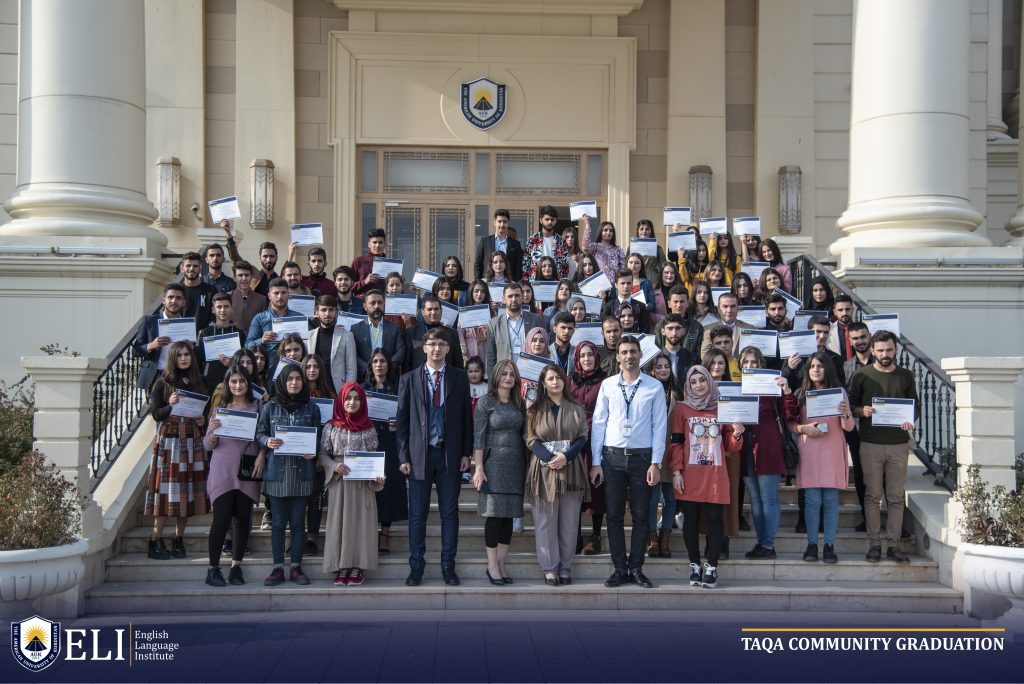 Duhok, Kurdistan Region of Iraq – December 4th, 2019 – The American University of Kurdistan's English Language Institute (ELI) Community in collaboration with Taqa Company celebrated the graduation of 92 students who joined English classes in Chamanke, Atrosh and Bellan.
The graduation was held in the presence of AUK Provost Dr. Nazar Numan, ELI staff, Taqa Community's representatives and the graduating students.
In his speech, Dr. Nazar Numan emphasized the importance of English language abilities in this day and age. While Dr. Schona Playford, the Director of AUK's ELI, held a speech thanking the instructors for their relentless effort in providing language lessons under aggravating circumstances.
Tania Hussein, Taqa's Project Manager's speech focused on the positive influence ELI's English language classes have on society, stating "Kurdistan's youth is willing to take risks and those risks are necessary for a brighter future."
These courses were presented as a part of Taqa Company's Corporate Social Responsibility (CSR) strategy in Kurdistan. The aim of the program is to contribute to the development of the local economy in Taqa's area of operations.
The goal of the ELI Community is to make quality English language training available to everyone. Classes are highly communicative and interactive; students are challenged to use English constantly and extend their capabilities in every aspect of their AUK experience.