Dr. Randall Rhodes Named Third President of AUK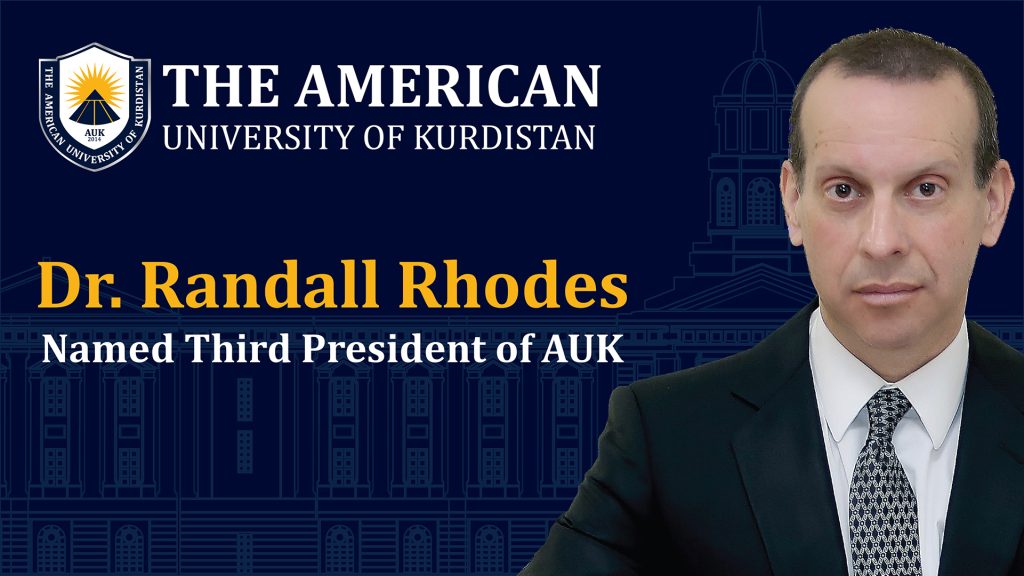 Duhok, Kurdistan Region of Iraq – Dr. Randall Rhodes, the Provost of American University of Armenia since 2015 and former Associate Provost of Frostburg State University in the U.S., has been elected AUK's third President by the Board of Trustees, announced Dr. Honar Issa, the Chair of Presidential Search Committee and the Secretary of AUK's Board of Trustees.
An alumnus of the University of Chicago, Dr. Rhodes has been engaged with the academic environment since 1985 taking up various positions, from faculty member to Chair of the Faculty Senate to Department Chair to Assistant Dean to Provost.
Dr. Rhodes will succeed Amb. John Menzies, AUK's Interim President, who will stay as President Emeritus, recognizing his dedication and efforts in steering AUK through challenging times.
In his statement, Dr. Rhodes said "I am very enthusiastic about joining the AUK community. The University is young, ambitious, and poised to become a leader in the educational, economic, and social development of Kurdistan. Let us work together to realize this vision, uphold standards of excellence, and make AUK a regional role model in higher education."
In addition to Dr. Issa, the Presidential Search Committee was composed of AUK Trustees, Dr. Celeste Schenck – the President of American University of Paris, Dr. Fadlo Khuri – the President of American University of Beirut, Dr. Mosleh Duhoky – the President of Duhok University, and Amb. Peter Galbraith, and AUK's friend, Dr. Cornelius Kerwin – former President of American University in Washington D.C.
The Presidential Search Committee described Dr. Rhodes as a strategic thinker who has immense experiences and knowledge in accreditation and implementation of strategic plans. He was born a leader naturally and the Committee is quite confident that Dr. Rhodes will lead the University in a direction bringing prosperity to the region and the betterment of people's lives.