Department of Interior Design held its first graduates' work discussion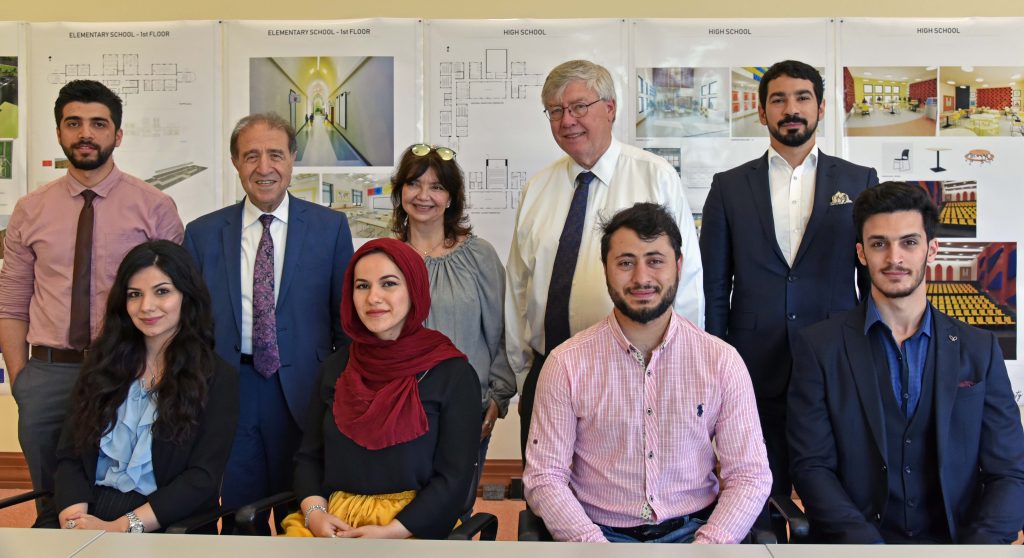 Duhok, Kurdistan Region of Iraq – May 5th, 2019 – The American University of Kurdistan held its first Interior design 6 credit senior capstone students' final presentations in AUK's Interior Design, Studio-room 135.
Students worked on exploring and designing AUK's schooling project, The American International School (AIS), by developing conceptual interiors for the three buildings that are to be built near the American University of Kurdistan's campus. Students incorporated architectural design with American modern schooling and educational approaches following AUK rationale and influence for the development of Duhok's future.
In the presence of AUK's President Dr. John Menzies, Provost Dr. Nazar Numan, Dean Dr. Razaq Farhadi, Chair Ms. Hala Al-Madfai of Interior Design, as well as faculty members of the department, four students presented their final projects followed by discussions.
"Course objectives are to engage the students into developing syntheses of disciplined thinking by engaging with interior spatial solutions that support the needs of the client (here AUK education foundation) and which recognize the qualities, of the building and its situation" Said Ms. Hala Al- Madfai, Chair of Interior Design and course instructor and supervisor.
All four students worked individually on designing conceptual ideas for the American University of Kurdistan's schooling project. After a study of live projects designed fully from A-Z including research and client input in developed research surveys and references to local example analyses. Omar Issa started his project with the development of patterns and light indicators challenging school bells, while Chang Tahir decided on using Erbil Citadel symbolizing Kurdistan's history and heritage in education spaces. Third presentation for Saman Jafer, utilized Hue and Saturation as the main concept for his work, wrapping up with Ayin Hussein's innovative contemporary combination of design and state of the art educational technology.
AUK's Department of Interior Design's BSC curriculum integrates theory, design, and technology conjointly with the international standards of the industry. Students develop the requisite intellectual, artistic, and ethical abilities necessary for professional practice.