AUK's first Middle East Peace & Security (MEPS) Forum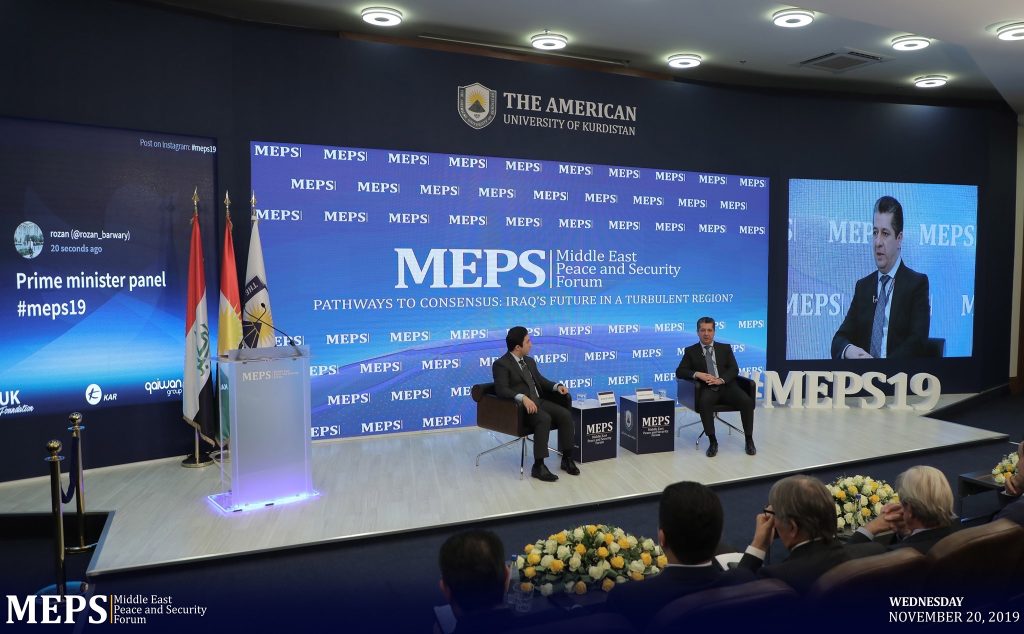 Duhok, Kurdistan Region of Iraq – November, 21st, 2019 – The American University of Kurdistan (AUK) held its very first Middle East Peace & Security (MEPS) Forum entitled "Pathways to Consensus: Iraq's Future in a turbulent region?" on November 19th& 20th, with the AUK Foundation as the main organizer. The two days' forum included four workshops and six panels, attended by heads of state, ministers, and leading personalities of international and non-governmental organizations debating the Middle East's most pressing political, socio-economic, and security issues.
The first day of MEPS started with a panel discussion on "The Nexus between good governance & regional peace" with H.E. Deputy Prime Minister of Kurdistan Region, Mr. Qubad Talabani, and Former Foreign Minister of France, Mr. Bernard Kouchner, chaired by Dr. Ranj Alaaldin of the Brookings Institution.
'There's a direct correlation between good governance & stability. Better governance is needed in Kurdistan, Iraq & MENA region as a whole. Good governance leads to happier populations which create more stable & prosperous societies." said Qubad Talabani, Deputy Prime Minister of the Kurdistan Regional Government.
Following the panel, more than one hundred regional and international scholars, thought-leaders and decision-makers were divided into four workshops to provide a platform for actionable policy recommendations, rigorous debate, and critical thinking.
The second day of MEPS was attended by more than two-hundred guests and opened by the President of the Kurdistan Region of Iraq, H.E. Nechirvan Barzani as the keynote speaker. "Iraq needs national negotiation with all parties to solve its long-lasting problems," stated KRI President in his address. "As long as those negotiations are in a framework that secures Iraq's authority and Kurdistan Region's constitutional rights, we are ready," he added.
Falih Fayyadh, Iraqi National Security Advisor, Mala Bakhtiar, PUK Politburo Executive Secretary, Bashir al-Haddad, Deputy Speaker of Iraqi Parliament and Rebar Ahmed, KRG's Minister of Interior addressed the first-panel discussing Erbil-Baghdad relations.
"The KRG doesn't want Iraq's fall; we rather want to help in changing Iraq towards more democracy," said Rebar Ahmed, KRG's Minister of Interior.
The second panel discussed Iraq's potential as a bridgebuilder in the region "As long as Iraq is in-stable itself, it can't have a positive influence on its neighbors and be a mediator for the region." stated Dr. Irina Zvyagelskaya of the World Economy & International Relations Institute in Moscow.
Prime Minister Barzani, who was a keynote speaker on the same day, opened the third panel with an update on the current humanitarian crisis in the region.
"Security and the rise of terrorism, ethnic cleansings, economic collapses, and political differences led to the flow of refugees and displacement of people from one area to another," he explained. "Many of these people came to the Kurdistan Region, which, by itself, says a lot: That Kurdistan is a much safer place, respects and protects people who are fleeing the threat of terror and conflict," said H.E. Prime Minister Masrour Barzani and AUK's Chairman to the Board of Trustees.
Ms. Clarisse Pasztory of European Union called it an "Impressive performance & frank talk by the Prime Minister of the Kurdistan Region".
Ms. Pasztory herself was attending a panel discussion on the role and future of The U.S. & Europe in the Middle East, with Ms. Jennifer Cafarella of the Institute for the Study of War, Dr. Dalia Kaye of the RAND Corporation, Dr Hassan Ahmadian of the Tehran University, Dr. David Pollock of the Washington Institute and Ms. Dareen Khalifa of the International Crisis Group mainly addressing The U.S. and Iran conflict, its reasons and future.
Another topic has been discussed on "Conflict Mitigation & Governance: Securing the peace" chaired by Former U.S. Ambassador to Croatia and AUK's member to the Board of Trustees, Mr. Peter Galbraith, in which Dr. Linda Robinson of RAND, Dr. Karen Young of the American Enterprise Institute, Ramon Blecua, European Union Ambassador to Iraq, Mr. Brian Katz of the Center for Strategic and International Studies and Mr. Galip Dalay of the Al Sharq Forum in Istanbul were discussing possible and actionable solutions for the many political actors in the Middle East.
With Kurdistan 24 being the media partner, the first Middle East Peace and Security forum was held under a remarkable spotlight on different channels and platforms. "MEPS received an extraordinary media exposure with more than 1,600 tweets using the hashtag (meps19) in one-day, making it the second most popular Twitter trend in the area on November 20th," stated Bina Qeredaxi, AUK's Communications Manager.
The American University of Kurdistan's MEPS Forum 2019 was enabled through the AUK Foundation as the main organizer, sponsored by KAR Group and Qaiwan Group.