AUK students held Halloween party on October 31st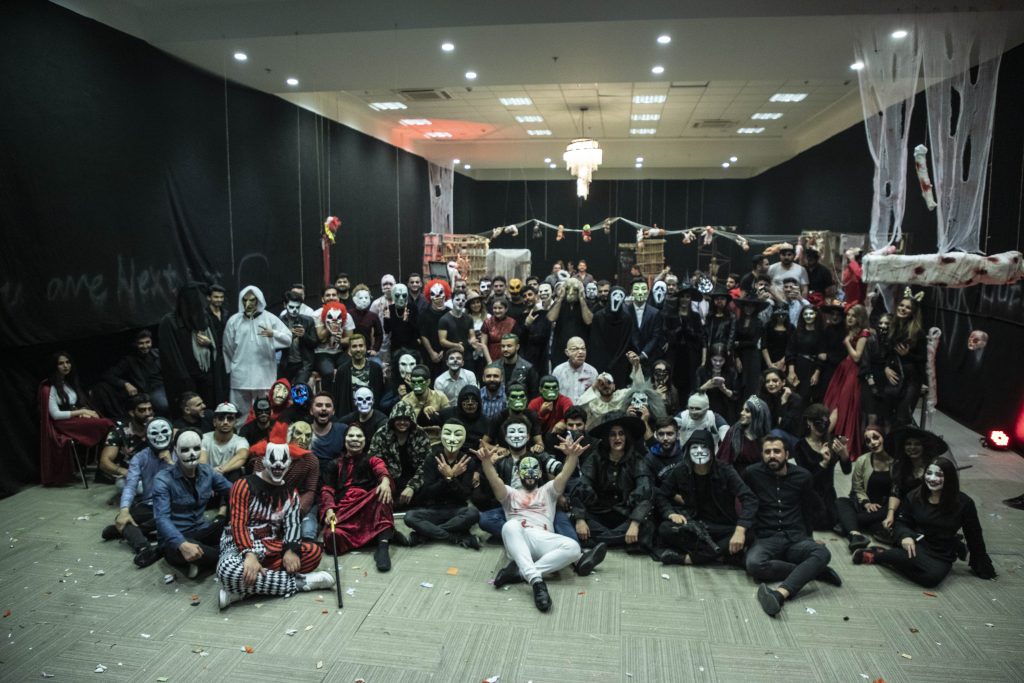 Duhok, Kurdistan Region of Iraq –October 31st, 2019 – The American University of Kurdistan's Student Government in partnership with the United States Department of State's Micro Scholarship Program held its annual Halloween Party.
The students spent weeks preparing and installing decorations in the event hall of AUK to reflect the real spooky atmosphere of Halloween. 'This Halloween was more than just an event for us, we have learned a lot of things during the preparation weeks and it has been a true workshop for us in designing, installing and handcrafting the decorations in the hall." Said Aya Hazim, AUK Student of Interior Design.
Halloween started with a group of masked students in red costumes entering campus, influenced by Alex Pina's "De Casa De Papel", a Spanish series streamed on Netflix. Other students dressed as the Joker, the Maleficent, the Hulk, Billy the Puppet from "Saw", Ghost-face from "Scream" and various other thriller box office films.
On the eve of Halloween, AUK's building turned into a spooky castle, with a cemetery full of skeletons, scary witches, butcher's corner and other horrifying decorations in celebration of Halloween.
AUK's in house DJ began the night by playing a selection of terrifying music electrifying the building in true Halloween spirit as AUK students entered into the smoke filled black hall where AUK's student scare team awaited to greet the guests.  Then the mood of the evening was completely shifted by our DJ who played his infamous mix of the latest international songs which rocked the night away.
"As an American University in Kurdistan it is important to introduce aspects of western culture into campus life to further develop and enrich our own community". Said Shie Faraj, Manager of Student Affairs. Her statement was reinforced by the attention received from the Kurdish media as the event gained special attention on the social media.
AUK celebrates Halloween every year however, 2019 has been its biggest student lead event so far attended by over 200 students.