AUK and its partners will continue their Medical Development Program in Kurdistan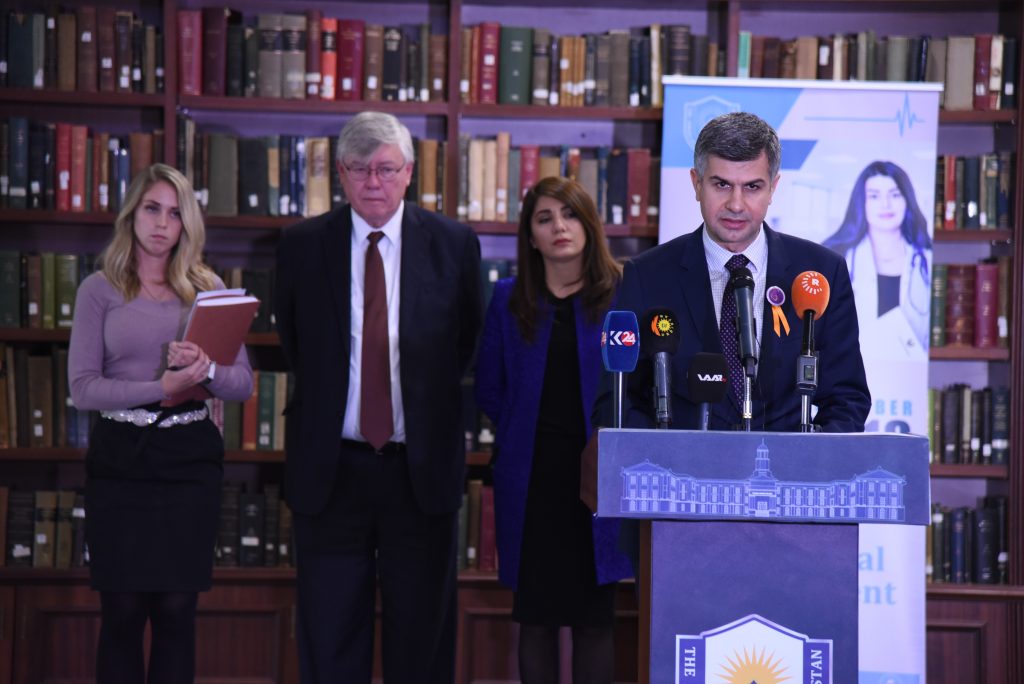 Duhok, Kurdistan Region of Iraq – November 29th, 2018- The American University of Kurdistan (AUK) held the closing event for the three weeks' medical development program in Kurdistan which has been consisted of a series of trainings for nurses and a chain of surgeries for Kurdistan residents, refugees and IDPs. During the event, trainees, instructors and facilitators of the workshops received certificates of participation, followed by a press conference.
This program was implemented in partnership with The Global Surgical and Medical Support Group (GSMSG), Barzani Charity Foundation (BCF) and the Directorate General of Health in Duhok.
The partners agreed on continuing to work together in the future to advance medical care in Duhok and Kurdistan in the months and years ahead. As a demonstration of AUK commitment, President Menzies of the American University of Kurdistan promised permanent office space to GSMSG "As we go forward in organizing a Nursing School at AUK and eventually a Medical College, we are working together very closely to bring in a noted, top-quality medical college in the U.S. as our partner in this effort and they will also help us identify teaching staff and practitioners to come here and teach in our program." Stated Ambassador John Menzies, President of the American University of Kurdistan during the press conference.
Over seventy nurses received professional trainings by top doctors and medical personnel from the U.S. "Such workshops enrich the knowledge local nurses and doctors have, both, practically and theoretically. We hope to see our trainers next year as well." Stated Warin Husien, one of the trainees.
Dr. Aaron Epstein, Head of the Global Surgical and Medical Support Group (GSMSG) confirmed continuing these training programs by their group "We travelled all over the world and we have been to many other countries, but this has been the best place we have ever gone to, that's why we will keep coming back here, keep doing these training programs" Said Dr. Epstein "We will develop this into the center of excellence of medicine to the region."
The mission of the College of Nursing in the American university of Kurdistan is to uplift the nursing profession in the Kurdistan region and beyond such that individual and community health and well-being are best served through excellence in nursing education, research and nursing practice that adheres to the values of AUK.